Detachable 6 – knife head and compensation rings for use with 3 knives.
Control panel with large 10″ digital touch screen and 10 membrane pushbuttons.
High-quality knives from BE-GW Steffens (Germany), adjustable to minimum distance to bowl.
Variable high cutting speed from 1.000 to 4.000 rpm.Optimized cavity design uses bottom of the stainless steel lid to also cut.4 preselectable knife speeds: 1.000, 2.000, 3.000 and 4.000 rpm.
Temperature sensor (ºF/ºC) located in the cutting cavity for precise measurement of product temperature in friction.
Variable bowl speed from 6 to 18 rpm, 4 preselectable speeds.
Knife shaft designed with dynamic 3D modelling to achieve further reduction of vibrations.
Slow mixing speed variable from 50 to 200 rpm, forward & reverse.
4 preselectable speeds: 50, 100, 150 and 200 rpm.
Variable mixing bowl speed from 6 to 10 rpm.
Bowl capacity K200: up to ±160 kg soft meat or ±100 kg dogged/frozen meat (K120: ±90 / ±60 kg).
Recommended option: hydraulic loader for standard 200 liter trolleys and motorized hydraulic unloading arm to emty to trolley.
Optional for K120neo: manual unloading arm with motorized disc.
High power to cut compact and even solid frozen meat. K200n: 82 HP / 60 kW, with PowerPlus option 109 HP / 80 kW. K120n: 48 HP / 35 kW, with PowerPlus option 82 HP / 60 kW.
Motorized stainless steel knife lid for effortless lifting and lowering.
Noise protection plastic cover with CE safety clearance of the knife speed when opening and returning to the previous speed when closing.
High energy efficiency class IE3 globally, with high performance ABB motors and VDF electronic frequency converters.
IP65 watertight electric cabinet.
Smooth starts and stops of knives and bowl due to next generation electronic frequency converters.
Bearings without maintenance, guaranteed 2 years.
100% stainless steel AISI304 (K200).
Polished surfaces, without corners, with CE radius to facilitate cleaning and comply with the highest hygienic requirements.
Automatic electronic knife safety brake.
Very solid construction. Strong machine frame.
Hygienic labyrinth in the knife head to prevent meat dough from entering the shaft / bearings.
Solid bowl made of robust stainless steel cast, with liquid drain plug.
Thermal protection on all motors.
Electronic device to avoid condensation inside the machine.
Standard voltage 400/380 V, other voltages available.
Adjustable NGI Denmark feet, non-slip and vibration absorbing.
Bottom of machine closed with labyrinthine breathing slots.
The Talsa K120neo and K200neo cutters are designed for the production of sausage hash of all kinds, for large slaughterhouses and industrial meat processors.
They are also suitable for a wide range of poultry, fish, pastry or vegetarian products, processed cheese and many commodities in the food processing industry.
The K120neo and K200neo cut, mix and emulsify all types of food products, from thick to very fine textures. They are simple to use, have an automated control system and are cleaned and maintained with ease.
Innovative design
R&D project on vibration and sound reduction in cooperation with the Polytechnic University of Valencia, Mechanical Engineering Research Centre:
Fully 3D computer modelling designed.
Vibration reduction on the knive shaft.
Reduction of noise and vibration in the chassis.
Silent drive transmission
Talsa Control
Modern 10-inch touch screen.
10 membrane buttons for the most used functions.
Digital display indicating gear, blade speed, temperature, turns, elapsed time, current time.
Automatic stop (time elapsed, temperature, turns of the bowl).
Display maintenance and service intervals.
Optional:
Interactive recipe guide.
User administration.
Data recording.
Production plan.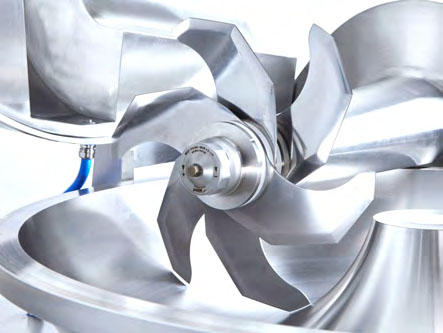 Knife Head with 6 standard knives BE-GW Steffens (Germany)
Hydraulic loader for fast and simple filling.
Standard 200 I trolleys
Hydraulic and motorized unloader for emptying the bowl fast and simple
Stainless steel motorized knife lid for effortless lifting and lowering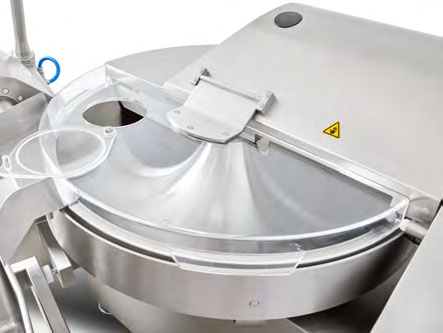 Noise protection cover with automatic decrease of knife speed. With opening to
add spices without lifting the cover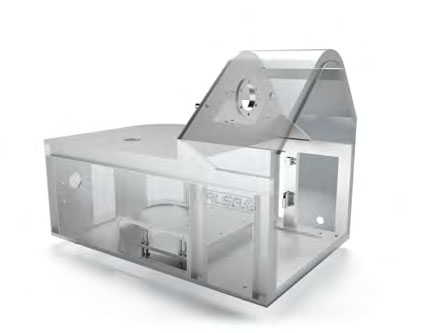 Very solid construction.
Large openings to access the interior.
100% AISI 304 stainless steel (K200)
Removeable lid/bowl friction band to facilitate cleaning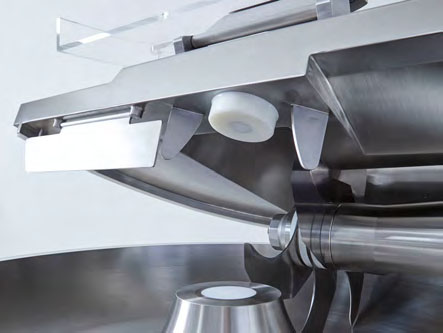 Smooth polished surfaces
, no corners or screws, with CE radius for easy cleaning
Bowl with drain plug for liquids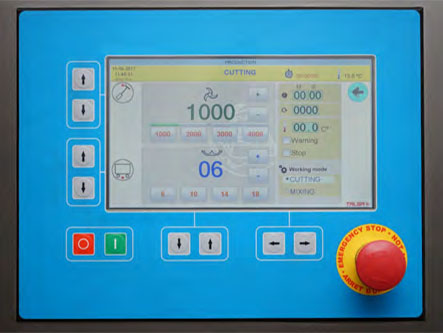 Digital display to control and program all functionalities of the cutter
Powerful ABB knife motors for heavy applications
Talsa Quicklock reduces the time to dismantle and assemble the knives in the knife head
More powerful ABB knife motors POWERPLUS,
especially for extra heavy applications
Hydraulic loader / unloader,
available for K200neo and K120neo
Motorized unloader disk, only for K120neo
G & W Steffens knives, best fit for your application:
Knife UN for raw, cooked and scalded sausage – Knife EF for extra-fine emulsions – Knife EX for raw sausage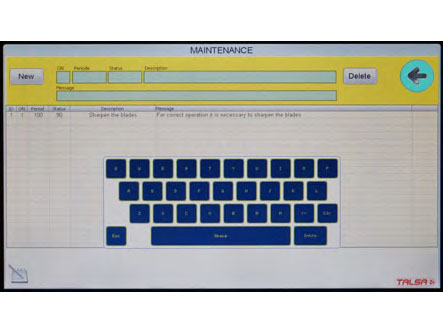 Talsa Control Plus, allows to extend the functionalities and shedule tasks / recipes
Euro tub Europa 200 liters, for loader, s/steel AISI304, with wheels and handle, DIN9797