New 2019 advanced models
SMALL CUTTERS / CHOPPERS
K15neo • K30neo
With 7″ Digital Touch Screen and variable speed
Cut and emulsify any type of meat mixture and many other food products
7″ Touchscreen indicating knife speed, temperature, elapsed time, current time.
Variable cutting speed: variable 750 – 3000 rpm + 4 programmed speeds.
Programmable automatic stop triggered by elapsed time or temperature limit.
Smooth start of knives and bowl due to electronic drives.
Emergency stop button.
Adjustable, anti-vibration machine feet.
Removable friction lid/bwol band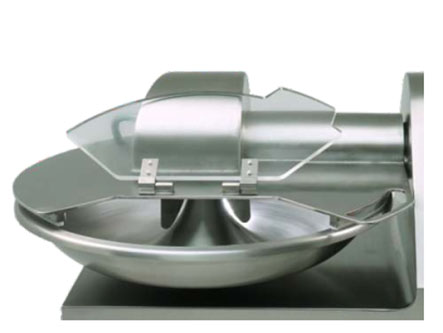 Transparent noise protection cover
Removable knife head with 3 knives (standard)
K15neo – K30neo
Advantages at a Glance
7″ digital touch screen displaying knife speed, temperature and time.
Variable speed control and 4 speed preselection buttons.
Programable automatic stop by temperature and/or elapsed time.
Emergency stop button.
High quality, silent poly-V belts.
Motor with electronic drive and overload protection. Low consumption motor + drive = high eficiency.
Removable 3-knife head, optionally with 6 knives.
High quality BE-GW Steffens (Germany) knives.
Strong, all stainless steel construction, solid s/s bowl and lid.
Machine frame with big openings. Adjustable, on-slip and vibration absorbing machine feet.
Knife lid assisted with pneumatic piston (K30neo), automatic stop of the knives when opening lid.
Transparent noise protection cover.
Temperature sensor C/F located in cavity of lid: precise temperature measurement of the dough in friction.
Removable friction lid/bowl band for easy cleaning, with self-adjusting springs.
Electric device to prevent condensations inside frame.
All screws stainless steel.
IP65 watertight electric cabinet (K30neo).
Bottom of machine closed.
Easy cleaning.
TALSA machines are not household products. They are specifically designed for professional use and require installation, maintenance and technical service performed only by a qualified installation technician and authorized by TALSA.
Moreover, to guarantee the correct installation and function of the products, TALSA does not sell machines or spare parts directly. We request you to exclusively contact your usual machine distributor.