Table or Free Standing Models
W22/82 • W32/98 • W114 • W130
Large filling tray with hand protection
Completely made of stainless steel
Free Standing Models
W32L/W98L 2,2 kW (3 HP)
W114L 3,7 kW (5 HP)
W130 5,5 kW (7,5 HP)
Table Models
W22/W82 1,1 kW (1,5 HP)
W32K/W98K 2,2 kW (3 HP)
W114K 3,7 kW (5 HP)
Complete mincing head made of high-quality
stainless steel in microfusion quality.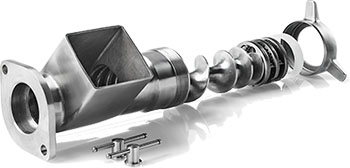 Removable mincing head:
no transmission of motor
heat – best cutting results
Cutting Systems
Available cutting systems for the best results depending on your product:
Enterprise (single cut)
Unger 2 (single cut)
Unger 3 (double cut)
Unger 5 (quadruple cut)
High quality knives & plates
Talsa meat mincers are equipped as standard with knives and plates made of special carbon steel of the highest strength and durability from German brand Lumbeck&Wolter.
This material is characterised by significantly lower wear and tear, which prolongs the service life of the knives and plates and prevents contamination of the meat by abrasion of metal particles as with soft stainless steel alloys.
Extraordinarily robust motor-gear unit
High performance and energy efficiency, quieter and less heat generation.
With overheating protection.
Rugged gearbox made of steel, with oil bath.
Automatic safety switch made by Merz Germany.